Liberia continues to rebuild following the destructive civil wars that lasted from 1989 to 2003. While the war had a devasting effect on the entire country, the educational system in rural communities like Teahplay continue to struggle to achieve scholastic standards. The challenges range from:
inadequate facilities,
poor human resources, such as qualified teachers,
family factors where parents face extended unemployment,
lack of support by National Government.
Teahplay is part of Ninkewah Chiefdom. It has one elementary school, owned and operated/supported by the Government of Liberia. There are no junior or senior high schools in the entire chiefdom. It is estimated that Teahplay has the population of 2500 people. While there are more than 1,500 school age children, as of January 2021 the school's total enrollment is only 132 boys and 93 girls. In addition to the substandard conditions, many children go to other towns to continue a higher level of education. 
The Teahplay school program is limited to pre-primary through 6th grade. It has five classrooms, but no office space. The school is administered by a principal, vice principal and seven teachers, including several volunteers.  
The Ministry of Education prescribes English as the language taught in all schools across Liberia. In addition to English, both Geo or Dan, the language spoken by local citizens, are used in the Teahplay school. 
Information obtained from school administration, students and community members, including Parent/Teachers Association (PTA) recognize the challenges to improve education in Teahplay.
A R.O.C.K. Vision for The Future of Education in Teahplay
A Learning Center planned for Teahplay by Carol and Sammy Kamara, creators of R.O.C.K., will provide vital educational support for children at risk. It will include a 2-story building with 24 classrooms, a library, offices and outdoor stage. Also, on the campus will be a 2-story, 20 room dormitory, rest room facilities and a water tower.
Estimated cost of the Learning Center will be $300,000 to be raised by December 31, 2021.
Visit our Learning Center Page to learn more about this exciting project – plus how your tax-deductible contribution will help make this dream come true. You'll also learn other ways you can become involved with the R.O.C.K. mission.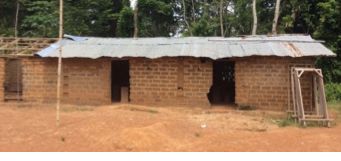 Existing School House in Teahplay
Sammy Kamara shares his bitter-sweet story in his memoir Breaking Point – A Journey to Self-Awareness and Finding Purpose in Pain.
Read how Sammy Kamara overcame insurmountable obstacles caused by emotional and physical abuse as a child. Proceeds from the book help R.O.C.K. and the Learning Center.
Share This Blog
Help support our mission to benefit underprivileged children by forwarding this blog to
family, friends and co-workers.
Until our next visit…. stay healthy, be happy and share your love.
Sincerely,
Carol and Sammy Kamara